Staying organized and having easy access to the tools and equipment you need is key for productivity. But when things are constantly moving around, getting misplaced, or lost altogether, it can derail your focus and waste precious time searching and re-organizing.
That's why implementing an equipment labeling and asset tracking system can be a total game-changer for maintaining order, saving time, and boosting productivity.
In this article, we'll cover:
The benefits of asset labeling and tracking
Key features to look for in asset management software
3 great options for equipment tracking systems
Real-world examples and use cases
Tips for getting started with asset labeling
Read on to learn how putting a system in place to track your tools, tech, and other assets can help you minimize waste, optimize resources, and work more efficiently.
The Benefits of Asset Labelling
Equipping your items with barcode labels, QR codes, or RFID tags and managing them in an asset inventory unlocks a multitude of organizational and efficiency benefits:
1. Save Time Searching for Misplaced Items
How much time have you or your team wasted searching for missing tools or equipment? Whether it's a common piece of tech like a laptop or specialty item like a camera lens, not being able to quickly locate assets hinders productivity.
With an asset tracking system, you can log an item's last known location. This transforms equipment hunting into a simple database lookup. No more crawling under desks, rifling through storage closets, or asking teammates if they've seen something.
2. Optimize Asset Utilization
An asset tracking system gives you an eagle eye view of what you own and how it's being used. With data on hand about equipment usage and demand, you can redistribute underutilized assets where they're needed most.
For example, a tech department can reassign laptops sitting idle in one department to new employees in another. Or a retail business can shift extra point of sale devices to stores seeing more demand. Optimized usage equals bigger returns on your asset investment.
3. Streamline Inventory Management
Managing inventory of consumables like office supplies and spare parts becomes much smoother with asset tracking. Features like minimum stock level alerts let you know when to replenish. You can set reorder points and review consumption rates to predict future needs.
Having inventory data on hand also prevents unintended duplication. For instance, you'll know exactly how many refills are left for a given printer model rather than mistakenly ordering duplicates.
4. Improve Equipment Accountability
With asset labels scannable by mobile device, it's easy to track who checked out equipment and when. This improves accountability and makes it simple to follow up if something is overdue to be returned.
Certain equipment like vehicles or industrial machinery may require routine maintenance and safety inspections. Asset management tools can track servicing schedules and send notifications when it's time for an item to be checked.
5. Enhance Data-Driven Decision Making
Comprehensive asset tracking provides invaluable data to inform management decisions. Reports on usage rates, maintenance stats, asset age, and more give visibility into what's working and what needs improvement.
You can make data-driven decisions about when to replace aging equipment, which brands to standardize on, where new purchases are needed, and other asset strategies.
Key Features to Look for in Asset Tracking Software
With the benefits of labeling and tracking your assets clear, how do you choose the right asset management system for your needs? Here are some key features to look for:
Key feature 1: Searchable Asset Catalog
A catalog or inventory where you can view and search all your tracked assets in one place is essential. Software with gallery views, bulk upload capabilities, and flexible sorting makes asset tracking scalable.
Key feature 2: Custom Fields
The ability to add custom fields to your asset records enables you to track relevant details unique to your assets. For tech you may want fields like serial number, IP address, and specifications. For tools you may want warranty expiration or service intervals.
Key feature 3: Mobile Scanning abilities
Assets tracked by scanning barcodes, QR codes or RFID tags enables easy check in/out on the go. Mobile optimization is a must for convenience when you and your team aren't chained to a desk.
Key feature 5: Notifications and Reminders
Configurable email or in-app notifications for overdue assets, expired warranties, maintenance milestones, and inventory stock levels provide helpful reminders that promote accountability and efficiency.
Key feature 6: Reporting and Analytics
Robust reporting capabilities let you glean insights from your asset data. Activity audit trails, utilization rates, maintenance stats, user behavior analytics, and cost tracking help inform ongoing improvement.
Key feature 7: Access Permissions
Managing team access through role-based permissions provides security and separates controls. For example, an accountant can run financial reports while service techs check assets in and out.
Key feature 8: API Integration and Customization
For advanced customizations, look for an open API that enables connecting the asset management system to your existing software, workflows and automation needs.
3 Great Options for Equipment Tracking Systems
With those key features in mind, let's look at three equipment tracking systems that offer capabilities scaled for different needs:
Asset Panda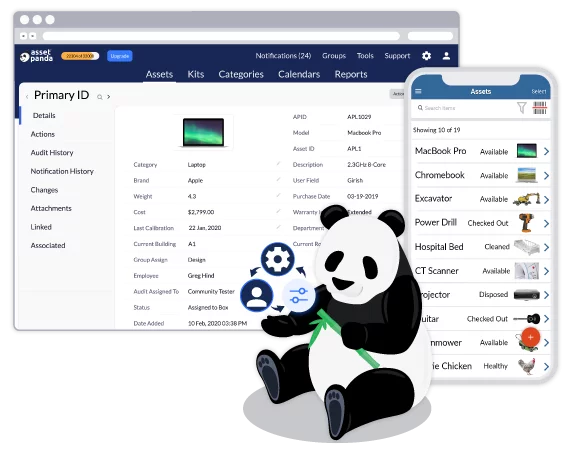 Asset Panda is a cloud-based system suited for midsize to large organizations managing thousands of assets. The platform is highly flexible and configurable for diverse use cases.
Key features include:
Gallery view catalog with bulk upload
Custom fields for detailed data
Mobile barcode scanning
Notifications and reminders
Robust reporting with 120+ preset reports
Role-based user permissions
Open API for deep integrations
White label branding
Asset Panda also offers affordable scaled pricing tiers to upgrade as your needs grow. And dedicated customer support is available to help implement and customize the platform.
Overall, Asset Panda is ideal for companies managing a large volume of assets across multiple locations and departments. The extensive features and enterprise-level support equip you to closely track assets at scale.
Snipe IT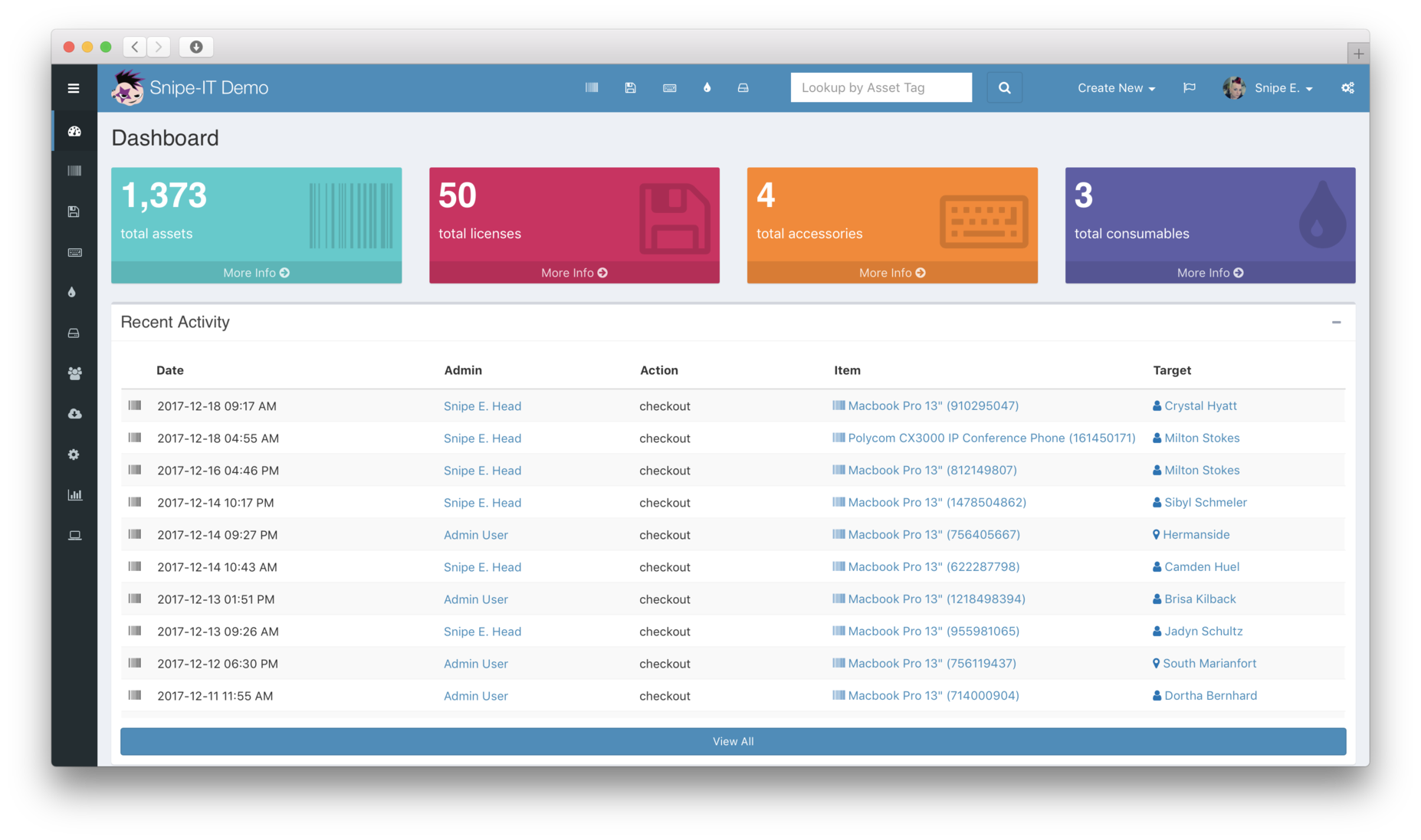 Snipe IT is a great open source option especially popular with IT and tech departments. With Snipe IT you get enterprise-grade functionality with the ability to customize to your needs.
Standout Snipe IT features:
Flexible catalog for any asset type
Granular custom fields
Mobile interface for on-the-go management
Scheduled reminders for returns and expirations
Robust reporting with exportable CSV/JSON
User roles and permissions
APIs and integration support
Self-hosted on your own servers
Being open source, Snipe IT benefits from constant development contributions from its active user community. And it's freely self-hostable for unlimited users and assets. 
Formal support subscriptions are also available.
For technology teams that want transparent, customizable, open source software, Snipe IT is a great fit. The active community expands integrations and features beyond commercial limitations.
Shelf (Best choice)
Shelf offers an intuitive, user-friendly asset tracking solution. It's designed for small teams that want a straightforward system without overwhelming complexity.
Shelf's approachable features include:
Visual asset database with photos
Categorization with tags
Basic custom fields
Mobile scanning of QR code labels
Activity audit trail
User management
CSV data export
Web and mobile interfaces
Shelf comes with unlimited free users and assets on the cloud hosted Basic plan. 
The low-cost Pro plan adds features like custom fields, user permissions, and API access.
For startups, creative teams, and small offices that want simple and hassle-free asset tracking, Shelf is a top choice.
The system is painless to set up and requires minimal training for users.
Real-World Examples and Use Cases
To get a better idea of asset tracking in action, let's look at a few examples and use cases:
IT Departments
IT teams manage expansive tech inventories including:
Servers, routers, and networking equipment
Laptops, desktops, phones, and tablets
Printers, projectors, and other peripherals
Software licenses
Cables, chargers, and tech accessories
Issuing a new employee a computer can involve coordinating multiple assets. IT can instantly check if a laptop is available, assign a power adapter, and confirm software licenses.
Asset tracking centralizes all this equipment data for smooth tech management.
Field Service Businesses
For field service teams carrying tools and equipment onsite, proper inventory management is crucial. Asset tracking enables:
Reserving kits of gear for specific jobs
Ensuring tools get checked back in after use
Monitoring tool conditions for safety
Ordering replacements for broken or worn items
Tracking costs of equipment replacement
With accountability for field assets, service teams reduce wasted time relocating misplaced tools and maintain readiness for onsite needs.
Healthcare Facilities
Healthcare facilities utilize all kinds of specialized medical equipment from imaging machinery to implantable devices. Asset management helps them:
Keep real-time visibility into equipment deemed "mission critical"
Get alerts for sterilization and routine servicing
Maintain records of equipment age and maintenance events
Coordinate equipment availability for patient procedures
Manage loaner equipment checked out to patients
Proper medical device tracking is crucial for patient safety, operational efficiency and regulatory compliance.
Warehouses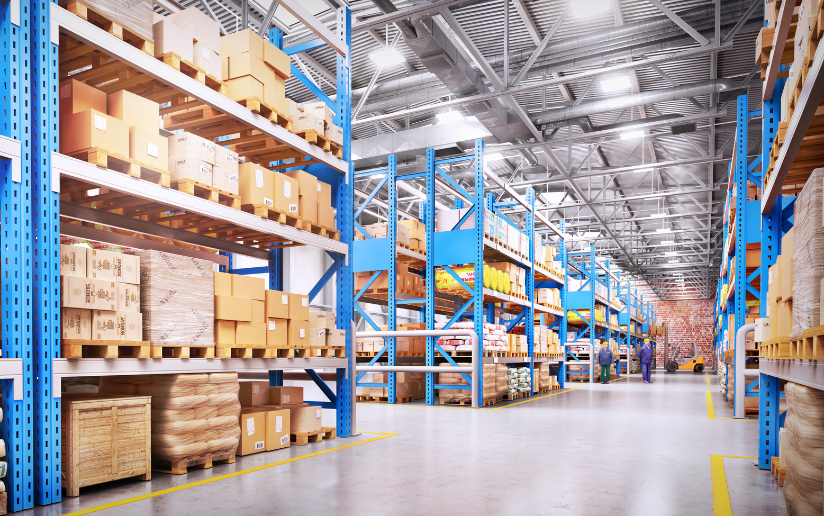 Warehouses and distribution centers handle high volumes of incoming and outgoing inventory. Asset tracking helps with:

Receiving inbound shipments and confirming quantities
Scanning pallet IDs for storage locations
Picking and packing orders efficiently
Tracking shelves, bins, racking, and other storage infrastructure
Identifying fast vs slow-moving items
Streamlining inventory cycle counting and auditing
With logistics in constant motion, an asset management system provides oversight to optimize workflows.
Creative Studios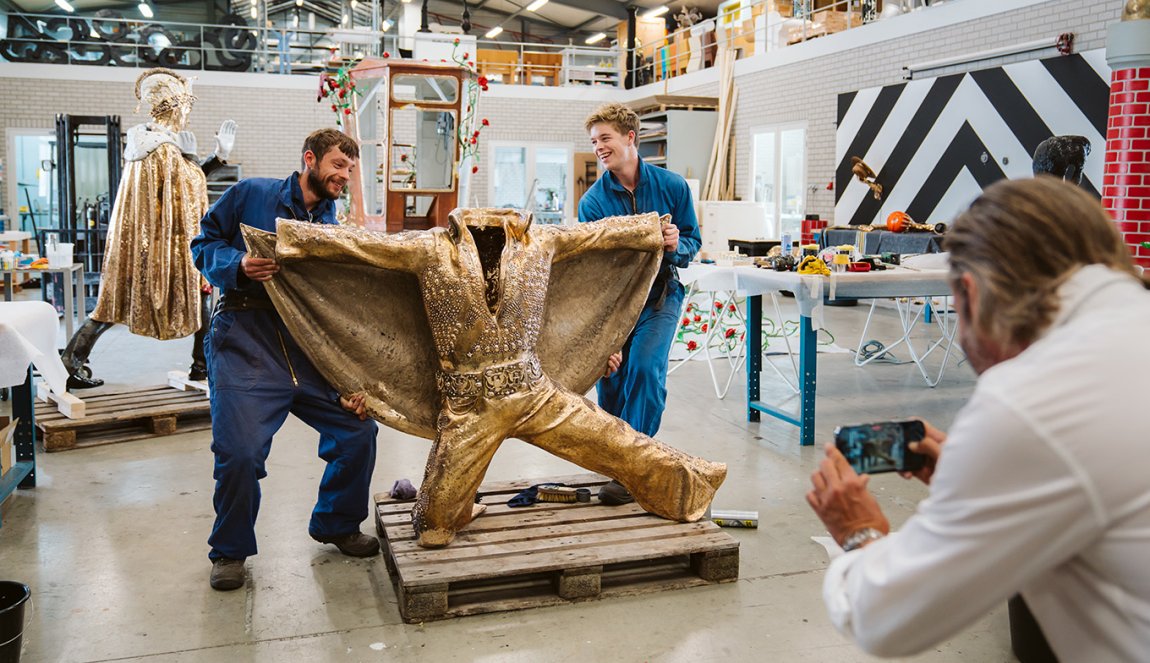 Creative studios like photography, film, audio, and design need to keep track of lots of specialty gear. An equipment room can contain:
Cameras, lenses, and accessories
Lighting and grip equipment
Microphones, audio recorders, instruments
Laptops, tablets, storage drives
Software licenses and dongles
Rental gear
Asset tracking allows checking out gear to productions and creatives while ensuring it gets returned. Usage data also helps plan future equipment purchases based on demand.
Construction Teams
Construction crews utilize heavy machinery, power tools, vehicles, and more. Asset tracking helps with:
Reserving tools and equipment for specific jobs
Monitoring usage hours for maintenance planning
Managing fuel supplies and usage
Tracking certifications and inspections for vehicles and equipment
Viewing underutilized assets that could be redeployed
With eyes on all assets in play, crews use resources optimally while staying safety compliant.
Tips for Getting Started with Asset Labeling
Looking to get started enjoying the benefits of asset tracking for your own team? Here are some tips:
1. Audit What You Have
Take inventory of what assets you currently have before choosing a system. This helps you identify items to track and customize the setup. You'll also have existing data ready to import into your new tool.
2. Start Small
Choose a small pilot group of assets and users at first. This allows you to test processes and get feedback before rolling out organization-wide. Starting with a key team also helps build momentum.
3. Standardise Your Labels
Using standardized labels across assets makes scanning simpler. Barcode stickers, QR code tags, or RFID tags should share size, placement, and naming conventions.
4. Train Your Team
Implementing new software only works if your team adopts it. Provide training on how and when to use the asset tracking system. This ensures consistent use and maximum value.
5. Automate What You Can
Look for ways to automate data syncing between your asset tracking system and other tools. This reduces manual duplication of data entry. APIs and integrations are key for automation.
6. Resource Allocation Is Where It's At
At the heart of it, asset tracking is about knowing what you have and properly allocating resources. Use your data to maximize utilization of the equipment you own. Optimized assets boost productivity and value.
Take Control with Asset Tracking
Asset labeling and tracking systems offer immense organizational benefits for businesses of all sizes and industries. Wherever equipment moves through your workflows, there are gains in efficiency, cost savings, and insight available.
Choosing software like Asset Panda, Snipe IT or Shelf puts robust, user-friendly tools within reach to unlock better asset management. Say goodbye to wasteful searches and lost track of what you own. Take control of your assets to streamline operations, improve visibility and drive data-backed decisions.
Gain more time, overview and peace of mind when it comes to your equipment.